Dear BBS Family,
I hope this letter will excite you about the progress of the Clinical Registry Investigating BBS (CRIBBS). We now have more than 700 individuals participating in CRIBBS. Thank you! In this letter, I will introduce you to the newest member of our CRIBBS team. I will share information about the educational success of our CRIBBS participants 18 years of age and older. I am proud of all our CRIBBS members but I want to give a shout out to those individuals that graduate from high school and move on to more achievements. I will take a bit of your time to discuss one feature of BBS seen in some individuals and discuss why it is important to know about this health issue especially in infants and children. I will briefly introduce you to the amazing people that will continue the legacy of the BBS Center of Excellence and remind you about the BBS Conference that will be held later this year. Of course, information will be shared about the discussion groups available to our worldwide BBS community, the BBS store and much more.
Hello from our newest CRIBBS Research Team Member- Honeliz Perales
I am so excited to be a part of the CRIBBS team as the new bilingual research coordinator. I have two children with BBS that have been a part of CRIBBS for a few years now and I am looking forward to connecting with families just like mine to help them navigate the journey that is Bardet Biedl Syndrome as well as help gathering data to make a difference in this community. I am so thankful for this opportunity and can't wait to connect with all of you.
What CRIBBS teaches us about high school graduation and much more!
We are frequently asked about expectations related to education for individuals with BBS. In our yearly CRIBBS interviews we ask two questions related to education. For participants under the age of 18 we ask "What is the highest grade the participant has started?" For participants age 18 and over we ask "What is the highest grade or level of school she or he has completed, or the highest degree she or he has received?"
We recently analyzed the results of the question asked about participants age 18 and older and would like to share the results. Out of 319 eligible participants, 222 or 70% graduated from high school, an additional 1% successfully completed the General Educational Development Test (GED). After graduating from high school 59% of the 222 participants attended college, and 35% graduated from college. The rest are either still attending college or maybe no longer attending. Instead of high school, 2% attended a business, trade, or vocational school. Close to 10% of the participants who graduated from high school went to business, trade, or vocational school after high school.
Helpful information from CRIBBS for our youngest CRIBBS members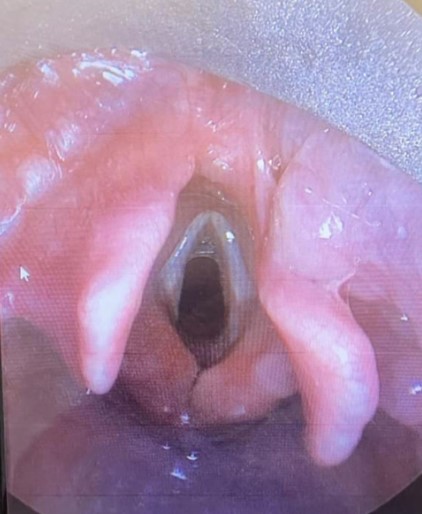 We all know that BBS comes with lots of surprises. One such issue is something called a bifid epiglottis. The epiglottis normally is a leaf-shaped flap that covers the larynx (the voice box area of the windpipe). The epiglottis is designed to keep food and fluids out of our windpipe. In some individuals with BBS the epiglottis can be "bifid" or the leaf-shaped flap can be separated into incomplete or poorly functioning leaflets allowing fluids or food to go into the lungs (aspiration). The reason we share this with you is that because of CRIBBS we know that infants and children with BBS and chocking or aspiration should be carefully evaluated by an otolaryngologist.
BBS Conference- A message from the BBS Foundation
It's been a long four years since we were last able to bring the BBS Family together. We bet you've missed being together as much as we have. So this summer, in late June or early July, we're going to get together in person again. There really is something amazing about spending a few days with doctors, researchers and especially other families that "get it."
You don't want to miss it!
If you've been to a BBS Conference before, you know they are not to be missed. If you're new to the community since 2018, we can't wait to meet you.
At the conference you'll:
Learn from doctors and other families about BBS
Hear from leading experts about cutting-edge research on BBS genetics and on emerging treatment and gene therapy
Get answers from doctors and specialists who have experience treating people with BBS
Bond with and learn from other BBS families
More information will be shared soon. We hope to see you there!
The Transition of the Center of Excellence for BBS leadership
As the Center of Excellence for BBS works through the transition of Dr. Haws's retirement, a Leadership Team has been formed to oversee the various aspects of the Center.
Jeremy Pomeroy, PHD is a Research Scientist who has several years' experience working with CRIBBS and collaborating with other clinicians and scientists on various projects.
Dr. Uzoma Okorie, MD is a pediatric cardiologist who has been actively involved in clinical care for our patients that visit the Center.
Dr. Kelsi Offenwanger, PSYD is a clinical psychologist who provides vital care pertaining to mental and behavioral health. Together, Dr. Okorie and Dr. Offenwanger offer invaluable experience and we are excited to have their insight on our Leadership Team.
Sonia Suda has been the Clinical Coordinator for the Center for the last five years and will continue to oversee patient care relations.
Social Media and Community Connections
---
BBS Adults Facebook page
This is a place for adults who have BBS. You can connect with others who have similar experiences, support each other and share your journey through life.
https://www.facebook.com/groups/648889312653215

Families of Bardet-Biedl Syndrome Facebook page
If you have a family member with BBS, please consider joining this page. You can connect with other families, share information, and know that you're not alone.
https://www.facebook.com/groups/138529479566568/

Bardet Biedl Kitchen Facebook page
Bardet Biedl Kitchen is a place to share your healthy recipes, seek nutrition advice, and eat healthier. We are open to all diet plans given our different needs. Let's make this the best kitchen yet!
https://www.facebook.com/groups/201421143800259/?ref=share
The BBS Families Store
Check out the designs at https://www.cafepress.com/bbsfamilyshop. The Families Store has T-shirts, sweatshirts, coffee mugs, hats and gifts. All profits from the BBS store will directly support BBS Research at the Center of Excellence for BBS at Marshfield Clinic.
BBS Family Cookbook
The BBS Family Cookbook has lots of healthy and delicious recipes, collected from members of the BBS community. Try them, share them, and tell others about your favorites on the BBS Adults, Families of BBS, and Bardet Biedl Kitchen Facebook pages. Click below to download the BBS Family Cookbook.
https://www.marshfieldclinic.org/mDonate/Documents/BBS-cookbook-latest-1.pdf
Or, if you wish to donate to support BBS care and research at Marshfield Clinic, you can also access the cookbook through their giving page:
https://www.marshfieldclinic.org/giving/bbs#C
Groups
---
Log-in information: Except for the BBS Sports Club (see the Sports Club listing for separate information), all the BBS groups meet on the Marshfield Clinic BBS Zoom site:
Join Zoom Meeting:
https://zoom.us/j/93172496421
You can also join by either a cell phone or land line:
Phone number: 312-626-6799
Alternate phone number: 646 558 8656
Meeting ID: 93172496421#
One tap mobile (this is what you can program into your contacts on your cell phone)
3126266799,,93172496421#
6465588656,,93172496421#
BBS Young Adult Group: Monday, April 11 at 6:00 pm Eastern Time
Facilitated by Joelle Swyka. This is a group for young adults ages 18-30. We meet on the second Monday of the month at 6:00 pm Eastern Time. This is a great place for younger adults who have BBS to meet and talk with others who are dealing with the same issues. Topics will vary, but we may be sharing ideas on everything from cooking, to shopping, to managing money. We can explore technology and adaptive tips and tricks, as well as discussing transitions in college, jobs, or careers. The group will be meeting on the Marshfield Clinic Zoom site. For new members, before joining the group, contact Joelle at joeswyka@gmail.com

BBS Parents Support Group: Monday, April 18 at 7:00 pm Central Time
Please join us for the BBS parents support group this month. This group is facilitated by Maxie and David McGlohan and is geared toward parents of children with BBS from birth to age 18. But everyone is welcome to join in even if their loved one is older than 18. For this month's call, we will as always discuss any topics that parents wish to discuss. We will also talk about ways to keep our kids busy and active on spring break and during the summer. We welcome any newly diagnosed families to offer information and support. This group is a safe place where parents can discuss any and all issues. David Sr is a dentist and I'm a family nurse practitioner so we are very comfortable discussing dental and medical topics. We look forward to connecting with and supporting each other during these difficult times.
The group meets the third Monday of each month at 7:00 pm Central Time, using the Marshfield Clinic Zoom site. For more information, contact Maxie at 2themax03@gmail.com
BBS Book Night: Friday, April 1, 7:30 pm Central Time
Moderated by Ellyn Hunter. BBS book night meets the first Friday of every month at 7:30 pm Central Time. The book is always available from BARD, and usually from Audible, local libraries, and possibly Bookshare. The group uses the Zoom site for Marshfield Clinic. This month, we will be reading The Plot is Murder, by V. M Burns. On Bard, it is easiest to find it by searching for "The Plot Is Murder Burns." For some reason, just searching for the title or the author doesn't work very well. . Description: Samantha Washington is finally opening her heart's dream of a mystery bookstore. While preparing for her first day, she begins writing a mystery of her own. But when real life imitates her story and a body is discovered in her backyard, Samantha must find the killer.
BBS Sports Club: Thursdays April 7, 14, 21, and 28 at 5:00 pm Pacific Time
Facilitated by Bob Stewart, the BBS Sports Club is an association of the BBS family where members love sports of all kinds. Weekly meetings enable participants to talk sports in a fun, social way. Meetings include contests where members compete for prizes and prestige. BBS Sports Club meetings are via Zoom and scheduled for 5 PM to 5:45 PM (Pacific Time) every Thursday except for holidays. Where a holiday falls on a Thursday or Friday, the meeting is scheduled for Wednesday. Those who are interested in joining the group should contact Bob Stewart at bstewart@yardarmtech.com to get the current Zoom login information.
BBS Women's Group: Wednesday, April 6 and 27 at 7:00 pm Central Time
This group is an informal gathering for women who have BBS, ages 25 and up. It provides a place for sharing personal experiences, resources, and adaptive strategies, as well as for establishing interpersonal connections. The group meets by the Marshfield zoom site every third Wednesday at 7:00 pm Central Time. For new members, before joining the group, contact Ellyn at ellynhunter@charter.net
BBS Weight Watchers Group: Saturdays, April 2, 9, 16, 23 and 30 at 12:00 noon Eastern Time
Facilitated by Jane Perry, this is a weekly group for individuals who are already signed up for Weight Watchers or are thinking about signing up, and would like to get together for more support, especially since so many of us in the BBS community are struggling with weight. The meetings are a great place to share ideas, recipes, and experiences, and to support each other throughout our weight management journey. The group meets using the Marshfield Clinic Zoom site.
BBS Adult Discussion Group: Sunday, April 24, at 7:00 pm Central Time
This is a group for adults, both men and women, ages 25 and older. The purpose of the group is to provide adults with BBS with a collaborative forum to share their experiences, ideas and resources with one another, as well as to create interpersonal connections. The atmosphere is informal, and topics vary. The group meets by the Marshfield Clinic Zoom site every third Sunday at 7:00 pm Central Time. For new members, before joining the group, contact Ellyn at ellynhunter@charter.net
Display in Latest News: Yes