Dear CRIBBS participants;
I would like to update you on a number of things. Please read/review the entire email for information important to you.
Lions Camp
The first ever BBS- Lions Camp was held this August in Rosholt, Wisconsin. It was an amazing opportunity and I promise that we will continue to expand the program. Andrea Yenter and her team from the Wisconsin Lions Camp were the best! We had more than 70 individuals from across North America participate. New friendships were created and long-term friendships were enriched. We learned a great deal as we discussed life and hopes and dreams while having fun, boating, dancing and singing. The theme was "BBS has got talent" and we witnessed amazing performances each night. The Facebook site- Lions Camp 2019! documents the fun. A big hand to Lions International and Marshfield Clinic Health System that were key to the camp's success and many thanks to Kevin and Claudia Bright for making the dream of BBS Lions Camp possible.
CRIBBS Progress
CRIBBS has reached a total enrollment of 520 individuals representing nearly every state and territory in the United States as well as 38 countries across the world. We have gathered a great deal of information that permits us to better understand health issues in BBS. We are currently evaluating growth patterns and the impact of BBS subtypes using more than 3700 measurements in individuals from infancy to over 60 years of age. I hope to have detailed information to you in the near future that will be important to you and your doctors.
I am delighted that therapies designed to make a difference specifically in individuals with BBS are moving forward. I was thrilled this week to have a person come into clinic that had lost 8 pounds in 2 weeks while on therapy with setmelanotide. I believe that there is a great deal of hope for targeted therapies (also known as precision medicine) for BBS. CRIBBS has made the exploration of such therapies possible. There is a great deal of excitement from university-based researchers and pharmaceutical companies about working with the BBS community because of CRIBBS. Please keep up your support and special thanks to the fund raising effort that make CRIBBS possible.
An advisory board for CRIBBS is now established. That board will help guide CRIBBS to reach its fullest potential. I wish to express my appreciation to the Tim Ogden & the BBS Foundation and each of you for your support.
Discussion Groups

I recognize that our discussion groups are primarily for English speaking individuals in the North America. I wish I could make a bigger difference on this but please consider developing discussion groups near you. The call in number for the US based discussion group is:
Join by phone
877-998-0997 Meeting ID: 046618107
Please feel free to contact Ellyn Hunter at ellynhunter@charter.net for additional questions about the Women's Discussion Group, Adult Discussion Group or Book Club. Please contact Becky Stewart at rebeccaestewart@comcast.net for questions about the parent discussion group.
Friday, 10/4/19, 7:30 pm Central Time: Book Night.
We will be reading the first novel in Barbara Freethy's Off the Grid series. (The first novel's title is Perilous Trust, but you'll need to search for "Off the Grid" in BARD—they have the first four novels packaged together.) It's available through BARD and local libraries.
Description: It was one dark night that brought Damon Wolfe and Sophie Parker together. They weren't supposed to see each other ever again...
Four years later, Sophie's FBI father, who is also Damon's mentor, is killed in a suspicious car crash after leaving Sophie a cryptic message to trust no one from the agency. When Damon shows up looking for her, she isn't sure if he's friend or enemy.
The last thing Damon wants is to get involved with Sophie again. But she's in trouble, her father's reputation is under attack, and the lives of his fellow agents are at stake if there's a traitor in their midst. When someone starts shooting at them, they have no choice but to go on the run and off the grid. Everyone in their world becomes a suspect.
They want to uncover the truth, but will it turn out to be the last thing they expect? Proving her father's innocence might just cost them their hearts... and their lives...
Monday, 10/14/2019, 7:00 pm Central Time: Parent Discussion Group discussing Individualized Transition Programs- When should you start; Why do it; What is an ITP anyway?
Sunday, 10/20/19, 7:00 pm Central Time: BBS Adult Group.
Wednesday, 10/30/19, 7:00 pm Central Time: BBS Women's Group
Information from Dr. Pomeroy on activity and lifestyle
We recently analyzed 24 hour movement data from participants in the CRIBBS accelerometry study. We looked specifically at sedentary time during the day and periods of activity at night. Time during the day spent in sedentary behaviors like sitting can have negative impacts on health, including increasing the risk of weight gain and insulin resistance. Activity at night that interrupts sleep also can have negative impacts on health by reducing the time spent in restorative sleep. Additionally, in people who do not have BBS, people who experience sleep interruptions often eat at night and this can also lead to excess weight gain and insulin resistance. We are not sure if nighttime activity is linking to nighttime eating in people with BBS.
In our analysis we found that Activity at night that interrupts sleep is fairly common in people with BBS. Almost 65% of participants in the CRIBBS accelerometry study experienced at least 1 bout of activity at night. We found that people who were more active at night spent more time in behaviors like sitting during the day. We did not find any association between BBS genotype and activity at night. We are planning additional studies to better understand the causes of night time activity in people with BBS and to understand if sedentary time during the day contributes to night time activity behavior or if night time activity behavior contributes to sedentary time during the day.
Sedentary time is most harmful when it occurs in bouts lasting 30 minutes or longer. Setting a timer or using some other reminder to get up and move every 20 minutes or so during the waking hours of the day can be effective to reduce long bouts of sedentary time.
Pearls for your Health Care
Skeletal problems are common in BBS and should be discussed with your doctors. The skeletal issues range from extra fingers and toes (polydactyly) to club feet to hip disease (hip dysplasia) with differences in the length of the legs. Some people have extra/missing ribs and in adults spinal stenosis may be a problem. One important issue that can be easily overlooked is scoliosis. Scoliosis is an abnormal curvature of the spine. Unfortunately, it cannot always be picked up by a physical examination especially if your health care providers do not carefully examine the back. Scoliosis often develops in childhood and may require bracing or surgery. In the attached x-ray scoliosis is shown with curves in the spine in the chest and in the mid-abdominal area. Please be sure to discuss scoliosis with your doctors and make sure the best care possible is rendered.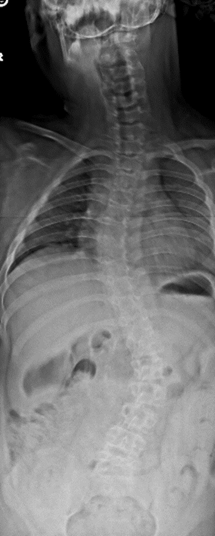 Please feel free to email me or reach out to the BBS Center of Excellence if you have any questions, comments or concerns.
As always, your friend.
Dr Bob Haws
Display in Latest News: Yes